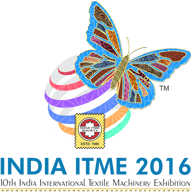 INDIA INTERNATIONAL TEXTILE MACHINERY EXHIBITIONS SOCIETY

Technology & Tradition, at its best in India ITME 2016
A must visit exhibition for best of textile engineering, Innovation, customised solutions, green technology, Fibre and yarn, agents and distributors, new customers, new business opportunities- India ITME 2016 is the most awaited business event of the year for textile industry.
Completing 4 decades the 10
th
edition of this once
in 4 year
mega exhibition has garnered much interest, excitement and anticipation amongst the national and international business community, government officials students, academicians alike. Riding high in the background of 'Make in India' campaign, this B2B exhibition has attracted big and small companies from across the globe.
Supported by

This event is supported by Department of Heavy Industry, Textile Ministry, Government of India and INDEXTB, Government of Gujarat as State Partner, making this the only privately organized exhibition supported by Central and State Government. India ITME-2016 is also supported by 73 international industry associations, universities and Media Partners across the globe.
Exciting display of engineering, razor sharp intellectuals presenting technology papers, panel discussions on varied current topics, rustic artisans weaving magic with bare hands, students impressing the industry, passion and creativity at its best, tradition in its glory, experience it all at India ITME 2016.
Offering solutions to big and small, array of exhibits from 37 countries, forging stronger trade relations with neighbouring countries India ITME 2016 shall provide and create opportunities for everybody. Sourcing, buying, partnering, investing, exploring new customers, markets, agents, dealers, all under single roof.
New products: Highlighting the importance of Indian market, 10th India ITME event shall showcase 8 new product launches for spinning, 7 for processing and 9 for weaving, totalling 25 new products for the business visitors to see first time. Apart from new products launches, 162 new companies have also participated this time out of which 132 are Indian companies and 32 foreign companies.
Global exhibits: A new and exclusive hall for digital printing, Testing and Measuring Equipments , Dyestuff and Chemicals showcasing exhibitors from Taiwan, Turkey, Italy, Switzerland, China and Australia is attracting much visitor enquiries. Turkey especially in spinning, weaving and chemical & dyes chapters are of high interest to the domestic and regional business visitors at India ITME 2016.
Green technology and waste water technology for textile units from ITALY, China, and India shall provide much required solutions for Indian Textile units. Carpet machinery from Belgium and Turkey, Fibre and Yarn From China, Taiwan, Germany, Indonesia shall be of much interest to visitors.
Industry and education connect at India ITME 2016: Making it an international and wholesome experience and platform for current industry and next generation entrepreneurs, technocrats ITME Society has facilitated various national and International Textile Institutes to conduct workshops, panel discussions. Thus India ITME 2016 shall set in motion the wave for future revolution for textile technology and textile business.
Seminar, Panel Discussion and workshops at ITME 2016

Date

Program

3rd December 2016


Textile Technology with Special Focus on Make in India – National Institute of Fashion Technology (NIFT)-
4th December 2016
Textile Finishing Conference:Efficient and sustainable approaches to textile waste water – WTIN, UK. – 4th December 2016
4th December 2016
Alumini meet - DKTE Institute, Ichalkaranji
5th December 2016
Textile Dyes & Chemical Technology – Institute of Chemical Technology (ICT) Mumbai

6th December 2016
Digital Printing Technology – Technological Institute of Textile & Sciences (TIT) – Bhiwani
7th December 2016
Professional Development Workshop: Educating the Textiles Industry (The Textile Institute, UK)





DESIGN, CULTURE, FASHION & ART DISPLAY




7th December 2016

Fashion Show– National Institute of Fashion Technology (NIFT) –


3rd to 6th Dec.2016
Weavers of Maharashtra- live craft work by artisans
India through lens -Photo Art Gallery
WILD INDIA - photography display
Textile Sculpture & Ethnic Fabric – MIT Institute of Design – Pune
The 10th India ITME to be held in December 2016 shall see a 1,50,000 visitor footfall over 6 days from all around the World and Indian sub-continent. Visitors and delegations from countries like Pakistan, Bangladesh, Sri Lanka, Thailand, Malaysia, Indonesia, Kenya, Ethiopia, Middle East have already registered. Extensive promotional activities are ongoing in Ethiopia, China, Egypt, Iran, Srilanka, Bangladesh and Turkey.
India ITME-2016 is a catalyst and also the best avenue to take advantage of India's improving manufacturing competitiveness, cost advantage and large urban & rural market. It is also the right platform to interact with the government officials and avail the many incentives offered by Government of India under the "Make in India" campaign.
All the trend setting and catalystic activities combined with high market opportunities makes India ITME 2016 an ideal and must visit business event of the year, especially for companies looking at Indian market to invest or expand existing base.